Looking for checks for your personal or business account?


Walled Lake School Employees FCU has a relationship with Main Street Services.
Click here to view their entire catalog and browse hundreds of checks and and accessories that reflect your style.
Click here to view Personal Check styles. Click here to view Business Check sytles.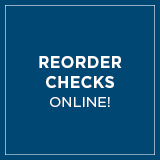 ***Warning if you have not ordered checks through this
supplier you will need to contact credit union to place your first order.