All Star Savers Youth Accounts
Just a few years ago we expanded our membership to allow students of WLCSD to join the credit union. Now we are rolling out a program for our 0-12 year old members that will help develop good savings habits. The program is called All Star Savers and offers different incentives to save. Check it out!
Grab a handful of change from our change jar on your birthday. We will deposit the amount into your account on the spot.
We will match the first $5 deposit at account opening.
Get a free gift when you open an account.
Fill out a punch card that allows you to pick a prize from our prize box. For every ten deposits you can pick a prize. Deposits can be as little as a penny.
No monthly fees and no minimum balances.
Free Money Guides are available to learn effective savings habits.
Visit us at the branch to open your account today!
---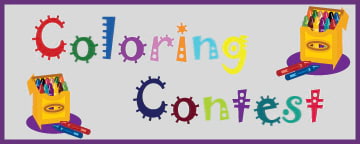 School is out for summer and we are looking for some of our young members to help decorate our lobby, so we are hosting a coloring contest at the branch. On the first day of school this fall we will pick one winner for ages 0-4, 5-8 and 9+ to each receive $25! We have coloring sheets at the branch, and you can also print off any of the four options below. You are also welcome to bring us your own coloring sheet. Just color your sheet and return it to us at the branch to enter for the $25 prize.
Ready, set, COLOR!
Option 1 Option 2 Option 3 Option 4
---